Hi everyone!
The leaves are turning; the soup is simmering; and it is t-shirt contest time at allycarter.com. Must be autumn!
(Can you tell autumn is my favorite? Because it totally is—don't tell spring.)
For the newcomers among you, here are the basics:
Every fall we have a contest where readers (just like you!) design logos which are used for t-shirts, mousepads, stickers–all kinds of stuff.
The winners are added to the Ally Carter shop at cafepress.com, so that other readers all over the world can order the items to show their Gallagher Girl or Heist Society spirit.
If this sounds like fun to you, please follow these easy steps.
Step 1:  Go look at past winning designs right here.  Yes here.
Inevitably, around contest time we'll get questions like what is a logo?  What exactly do I make?  Do I make a t-shirt or what?
Well, the best way to see what a good entry looks like is to…ya know…look at winning entries.
Like these for Gallagher Girls: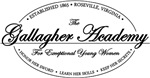 And this one for Heist Society:
Aren't they good?  If you feel up to the challenge of making something like that then read on.
Step 2:  Think about what you want your design to be.
And note it does need to be a DESIGN.
Every year, we get tons of entries that are lines from the books printed out in a pretty font.  There's nothing wrong with that, but these entries aren't necessarily as clever or interesting as the ones that usually win.
So, when in doubt, be clever and interesting!
We also get a lot of drawings that people do on notebook paper and typing paper. These are nice too, but they're really more like fan art.
What we are looking for are designs.  How do designs differ from fan art? They are clear, crisp, concise. And they usually aren't just a picture.
See?
This winner from 2012 is a line from one of the books, but it isn't just typed out. It is designed.
Step 3:  Read and follow the rules.
Because of the number of entries we're expecting and what's at stake, entries that do not comply with the contest rules will not be considered.
If you have questions regarding the contest rules, please consult a parent, guardian, or teacher.
THE RULES
Please send your entry, your name, and your email address to AllyCarterContest (at sign) gmail.com on or before Sunday, November 10, 2013.
Entrants may be ANY age!
Entrants must be from United States or Canada.*
All designs must be original artwork (no clipart, photographs to which you do not own the copyright, etc.).
Collaborative efforts are allowed, but prizes must be shared among the members of the winning team. (Meaning—you will get one gift card, one cafepress coupon, etc. We will not be responsible for splitting up the prizes and prizes will not be doubled.)
Designs will be judged based on concept, execution, and the ability for the designs to duplicate well.
(That last one is a biggie. If we can't upload the file to cafepress and have it look good on the stuff they print then that entry cannot win. It just can't. It isn't usable, and the purpose of this is for the designs to be used.)
Designs must be sent as either pdf or jpeg files. Entries may be created in any software program or with pen/paper, but files MUST be scanned or saved in either pdf or jpeg format before they are sent to us because we don't make the files–we just deliver them to the t-shirt people. (In other words, your design must be ready AS-IS.)
You will be submitting designs only–no need to make actual t-shirts. Those will come later.
You may submit a maximum of TWO entries total.
Designs can be one-sided or front-and-back, but please note that preference will be given to designs that are one-sided since they will be less expensive to produce and purchase.
An important note:
The winning design may be used in a number of ways to help promote the Gallagher Girls series and/or Heist Society. By entering this contest you give up the copyright to your artwork (meaning you can't sue us if we use it because…well…using it is kind of the purpose.)
If you've read and understood these rules and feel up to a challenge, then start designing!
The winning entry will receive a $200 gift card to the bookstore of his or her choice and a gift card to cafepress adequate for him/her to order something featuring the winning design!
The winning designs will be featured on t-shirts (and possibly other merchandise) that will be sold on cafepress.com.  Please note that all items in the Ally Carter store are sold "at cost".  This isn't a money-making thing, in other words.  It's just something fun for fans, and I hope it is just that–lots of fun for everyone.
Thanks and happy designing!
Ally
*Sorry, international Gallagher Girls.
International laws make holding international contests really scary for those of us who live in fear of getting sued.  I will let my international publishers know about this contest in the hopes that they may want to sponsor a companion contest where you live. Reach out to them via facebook, twitter, etc. if you'd like to show your support, and I'll cross my fingers it will work out.