Hey Everyone!
I have a love/hate relationship with the holidays. I love the smells, foods, decorations, and holiday spirit. What I don't like is the crazy amounts of traffic, how people get stressed out about buying gifts, etc., and the feeling of having to rush. I think we should just enjoy this time instead of feeling forced to fight the crowds to go buy presents. This is why I make all my presents! 🙂 They are much more personal and I am pretty sure people like them more because they are unique 🙂
So I wanted to give you all a gift from me, and yes I made it 🙂
Here is a Gallagher Girl holiday card!! You can print it off and make into a card to give a friend or you can e-mail it, post it to your facebook, put it on a blog, etc!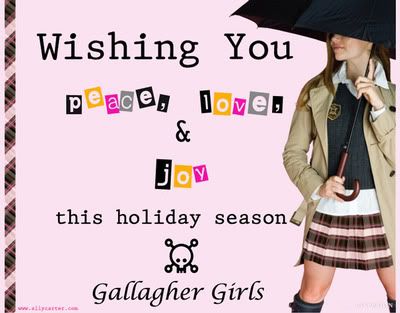 I hope you like it! 🙂 And I hope you all have an awesome week! Enjoy this time of year and all the little things that make the holidays so great! I have another surprise for you next week, so be sure to check back!
xoxo
Molly
PS I am also making this a card on the cafe press store, if you want to order a pack of them 🙂